Want to upgrade your fish tanks because you're sick of the smaller ones? 
A 55-gallon fish tank is typically a popular option for novice aquarists. While it is big, it is yet manageable and comfortable to maintain. 
The main problem with a fish tank, whether it is 20 gallons or 55 gallons, is cleaning. 
Complete chaos can result from failing to incorporate the proper filter. Fish in such tanks die before age through inadequate water flow or poor cleaning. 
It's time to switch the filter, especially if you have a smaller filter that was perfect for your old setup. 
Scroll down to get your hands on the Best 55 Gallon Fish Tank Filters.
What Makes the Best 55 Gallon Fish Tank Filter?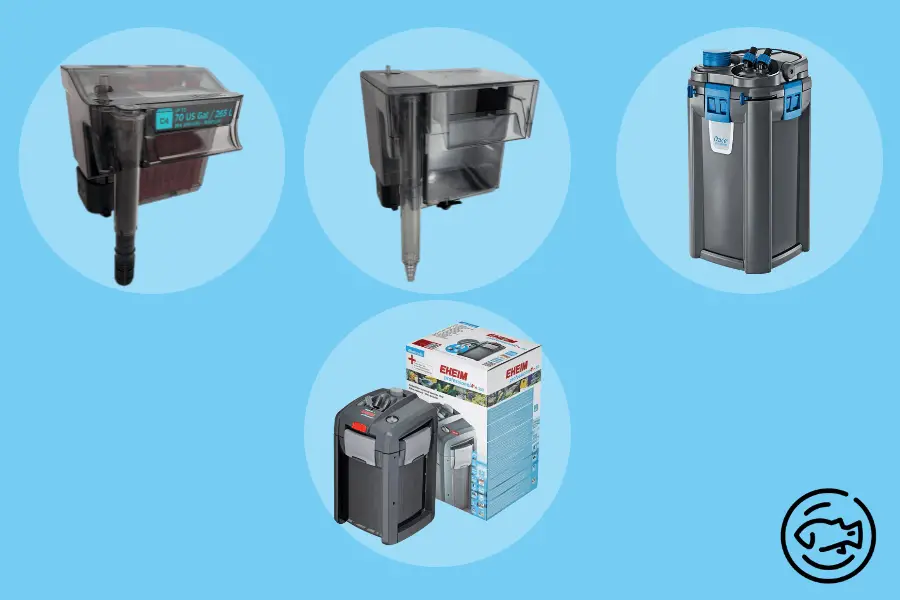 A good water filter for such a large fish tank requires some qualities, including mechanical and biological filtration, optimal size, and less maintenance. 
Mechanical filtration is all about the perfection of a filter, getting rid of solid substances from the water. 
Thus, it should be able to remove most of the dirt and debris without affecting the ability of the pump to move the water. 
At the same time, biological filtration gets rid of harmful chemicals from fish waste with the help of good bacteria. 
Lastly, the filter should be easy to clean, which requires a device you can dismantle without much effort. Our top picks for the best 55-gallon fish tank filters are :  
Marineland Magnum Polishing Internal Canister Filter

Aqua Clear Fish Tank Filter

Eheim Pro 4

Penn Plax Cascade 1500 Elite Aquarium Filter

Hydor External Canister Filter

Fluval C4 Power Filter

OASE Indoor Canister Filter

SeaChem Large Aquarium Fish Tank Filter
Best 55 Gallon Fish Tank Filter Reviews
The key is to get the right device that works best for the size of your fish tank and proves efficient while coming for a budget-friendly deal. 
While there are many products out there, each of which has its own features, it may seem not easy to pick the right one. 
To help you through the same, here are the 8 best 55-gallon fish tank filters, along with their pros and cons. 
1. Marineland Magnum Polishing Internal Canister Filter
It is always best, to begin with, an internal filter. This enables you to control the flow rate of the water and the filtration system. 
High-quality submersible filters have been used to create this internal canister filter. This enables you to maximize its power for simpler filtration. 
It covers the fish tank's physical, mechanical, and biological filtration requirements.
Two distinct refilling chambers are built into the interior of this filter. The material that best works for a particular tank arrangement can be modified. 
Additionally, it helps the standard carbon filter cartridges remove undesirable contaminants. 
The tank's micron cartridge is made with a high-polishing process that maximizes effectiveness for best use. 
This works fairly well for tanks up to 100 gallons in capacity, not only the standard 55 gallons tank.
Pros
Simple to set up and install

filtering medium with two chambers

self-governing operations

convenient to maintain and clean
Cons
It produces a whirring sound
2. Aqua Clear Fish Tank Filter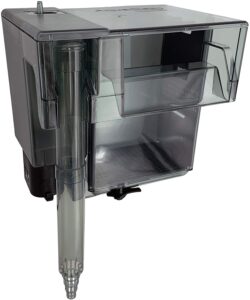 Aqua Clear features a wide selection of excellent filters in various sizes. 
This AquaClear 70 is for tanks with a capacity of 40 to 70 gallons and comes in the first place. 
The filter's multistage filtration technology combines biochemical, mechanical, and biological filtration. 
It creates a quiet, unobtrusive waterfall by forcing water through it. 
The filter is therefore perfect for aquariums that contain both huge fish and delicate, weak-swimming fish or fry. 
While keeping healthy bacteria, it purifies the liquid of waste and pollutants. 
Users of the unique refiltration system can regulate the flow. Approximately 50% of the water gets filtered numerous times when the flow is decreased. It can be installed in minimal time, and there is no trouble.
Pros
Employs biological, mechanical, and chemical filtration

Controllable and individualized flow rate

Easy setup

Fish tank-friendly and without noise
Cons
Small fish cannot fit through the intake filter because it is too big; a pre-filter sponge is needed.
3. Eheim Pro 4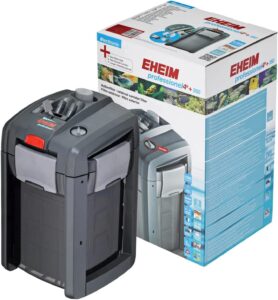 Eheim is a well-known producer of top-notch goods for the hobby of fish keeping. 
Eheim filters are incredibly dependable and easy to install, clean, and maintain. 
We adore these robust, effectively constructed filters for larger tanks. This filter has a press pump button to start the siphoning process and is an externally canister-style filter. 
The variable flow rate is great if you have livestock that doesn't tolerate too much power in their environment. 
The filter material trays are smartly made so that you can easily remove each one separately for cleaning. To ensure perfect alignment when you change the trays in the device, each one features a convenient triangle marker in the corner.
Pros
Dependable filtration

Very low noise operation

Self-priming Reasonable cost
Cons
There may be some variation in the flow rate.
4. Penn Plax Cascade 1500 Elite Aquarium Filter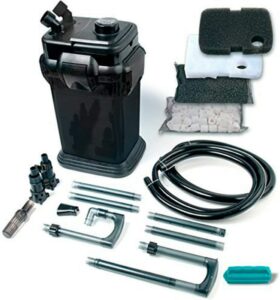 The device has strong filtration capabilities and includes everything required for comprehensive filtration of a sizable tank. 
A push-button primer kicks off the filtering process, and the unit has an appropriate flow knob to modify the water flow into the tank to accommodate your animals. 
Large filter chambers, output/input piping, and a lot of filter material are included with the filter unit to get you started. 
The additional filter trays allow you to use more porous material and remove it less frequently because the filter material can be adjusted to your needs.
Pros
Filters of exceptional quality

Completely adaptable

Feature for adjusting the flow
Cons
Costly in comparison to other comparable products
Also read: Cuban Cichlid Care Guide
5. Hydor External Canister Filter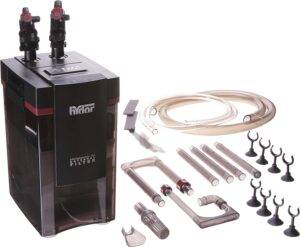 Hydor's 55-gallon tank filter is a fantastic option for aquariums with various varieties of fish. 
The external filter has a canister design and produces a remarkable amount of power considering its size. 
It uses cutting-edge filtering technology to purify and cleanse the water by removing extra nitrate and ammonia. 
The 250 model is suitable for freshwater and saltwater aquariums with tanks between 40 and 75 gallons in capacity. 
Its security locks, substantial filter volume, and ceramic shaft also have a long lifespan and are durable.
Even the biggest tanks benefit greatly from their cleanliness while preserving their near-silent operation, thanks to their small size. 
The filter doesn't produce much noise when working; it just quietly completes its task. There is no certainty that it will bother children or night shift employees.
Pros
Easily adaptable for freshwater and saltwater settings

Almost stealthy, unobtrusive operation

Compact but potent

Made with durable components that won't wear out or break
Cons
Pump connections are delicate.
6. Fluval C4 Power Filter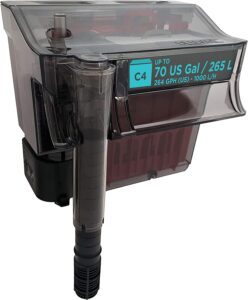 Tanks up to 70 gallons in size can use the Fluval C4 filter. 
It employs a special 5-stage filtration technology that requires minimal user effort while producing exceptional results. It is extremely efficient since it provides the most surface area and run periods. 
In stages 1 and 2, particulates and trash are captured using mechanical filtering and a polyfoam pad. 
Stage three uses chemical filtration to utilize the supplied active carbon insert included with the filter. This step successfully removes odor, water stains, and other pollutants. 
Before letting it flow into the biological chambers and onto the C nodes, stage 4 purifies that water throughout a bio-screen which further filters it.
Pros
Five steps are used to ensure pure water.

Useful for 40-70 gallon tanks and filters 264 gallons of water per hour
Cons
When used for a prolonged period, filters might become loud.
7. OASE Indoor Canister Filter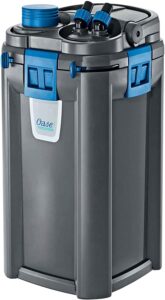 The leading canister filter available right now is the OASE Biomaster filter. 
It satisfies every need for a high-quality canister filter. 
German manufacturing lends it certain durability, and it has an excellent four-stage multistage filtration system and a sizable media capacity. 
This canister filter stands out due to its detachable mechanical filtration component. 
This feature allows you to remove this portion of the filter without disassembling the complete filter, making it worth the cost on its own. 
Because of how simple it is to approach and clean the mechanical phase of the filter, maintenance will probably need to be done more frequently.
Pros
Built-in heater

Mechanical filter chamber that is durable – manufactured in Germany

Expensive
Cons
Inaccessible at neighborhood fishmongers
8. SeaChem Large Aquarium Fish Tank Filter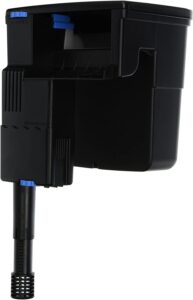 One of the greatest hang-on-the-back filters available is the Seachem Tidal. 
It contains an internal 250 GPH motor, which means that the motor is housed inside the aquarium, and the key advantage would be that the filter doesn't ever need to be primed. 
You won't need to worry about the cleaner as it turns on after a power outage, which is a significant advantage. 
Since the machine is already submerged, suctioning will start as soon as the motor turns on. 
Additionally, it has a heater holder, which you can attach directly to the filter's side. This places the heat in the tank's location with the maximum flow rate, enabling uniform heating across the tank. 
You can fill the remaining space in the basket with bio-media as it has reusable sponges for mechanical filtration. 
Pros
Flexible media chambers that are durable

Useful mechanical media

Large capacity for Bio- Media
Cons
The skimmer is unsafe for shrimp.
Conclusion
Making the best aquarium filter choice could be challenging. 
After reading the above description of the numerous forms of filters, it ensures that this message lessens your buyer's anxiety. 
It would be best if you didn't make this investment without doing some study and giving it a little more thought, as it is one of the most crucial elements of an optimally running fish tank.